RingCentral UCaaS/VoIP Overview
What is UCaaS?
UCaaS, or Unified Communications as a Service, is a variety of Software as a Service (SaaS) which is hosted in the cloud, as opposed to a on-premises appliance. The goal of UCaaS is to provide a full suite of communication methods - VoIP phone system, video meetings, messaging, and group chat - under one intuitive platform.
Info
Bitstream designs, implements, and maintains UCaaS and phone systems for our clients, and has chosen RingCentral as our trusted partner.
Just as email servers moved out of business server rooms over the past decade, the same transformation has been occurring with voice communications. As traditional PBX and key systems near end of life, they are being replaced by a cloud-native solution rather than an on-premise phone system.
Gartner Nov 2020 Report on UCaaS Cloud Adoption
By 2024, 74% of the new unified communications licenses purchased by organizations will be cloud-based, up from 48% in 2019.1
There are dozens of companies we could have chosen as a partner to provide UCaaS and phone systems to our clients. But after customer feedback, research, and lab experimentation RingCentral became our top choice for these reasons:
Leading Security - Industry first SSAE SOC2 Type 2
Secure Voice TLS/SRTP
Toll-fraud controls
Leading Reliability - >99.999% availability
Redundant backbone network
Direct PSTN gateways
Active-active full failover
Global, geo-redundancy
Hosted facilities in close physical proximity to the world's top 20 Internet exchange points
Co-located with all the major U.S. telecommunications carriers to maintain the fastest response times and interconnect services possible
And this is not our opinion alone. From 2015-2020, RingCentral has received top placings by global research and advisory firm Gartner. Here is their "Magic Quadrant" leaderboard for 20201: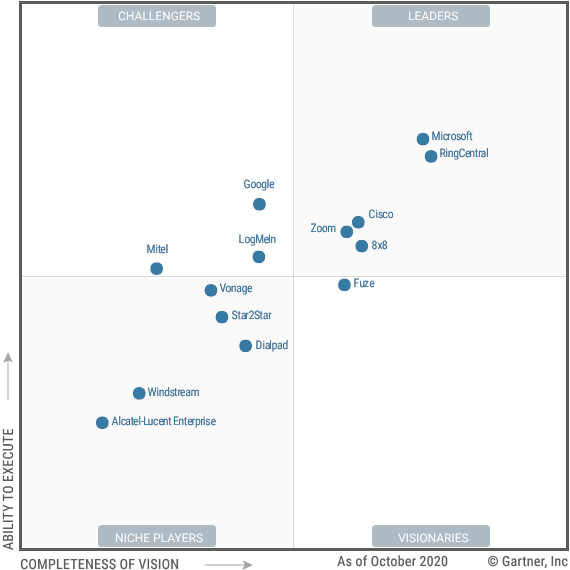 Phone System
The core of the RingCentral UCaaS phone system is located in the cloud and gets upgraded on a regular basis without any action required from the client. Great new features appear every quarter. There is a large selection of desk phones to choose from provided by quality manufacturers like Polycom, Cisco, Unify, and Yealink - https://www.ringcentral.com/office/voip-phone.html
There is no box or server component located in a server room or telecom closet on your premises. RingCentral phones and apps communicate directly with the RingCentral Cloud via your Internet connection. If your firewall supports SD-WAN and has multiple uplinks with failover, then your phone system will continue to operate even in the case of a major Internet outage with your primary circuit provider.
One of the great advantages to this next-generation architecture is that your business communications systems are no longer anchored to the physical location. RingCentral phones can be moved at a moment's notice to another location, or multiple new locations, and all call flows and voice operations will continue to function normally. You can take your numbers with you anywhere freely with no interaction with the phone company.
Here are some of the components that make RingCentral a true UCaaS platform:
Video Meetings
RingCentral comes with full featured video conferencing abilities. So your company would not have to pay for another service like GoToMeeting or Zoom. Some of the features of RingCentral Video Meetings are:
Invite up to 200 people via link, email, or text
No downloads needed. Hop on meetings right from your browser, or the app - complex software installs and administrator rights are not required to launch
Experience HD audio and video
Security you can count on - password-protect any meeting so you can control who can join and when
Share your screen (or just the app window) and annotate files in real time
Messaging and Chat
RingCentral also includes a team messaging app called Glip. It's not an afterthought either; Glip is easily on par with Microsoft Teams and Slack. Some of the features are:
Get organized in teams - getting on the same page is easy with dedicated threads for projects, topics, and teams
Message anyone - streamline work with customers and partners by inviting anyone to join your conversations
Share with drag and drop - send files, pin documents, and connect tools like Google Workspace
Meet with a click - hop on a meeting right from a 1:1 or team chat and share your screen so everyone can follow along
Pricing
There are a few different plans to choose from, but either the Standard or Premium plan will be a good fit for most any business. We will be glad to meet with you and explain all the details.
| RingCentral Plan | Monthly Price Per User |
| --- | --- |
| Standard | $28.99 |
| Premium | $34.99 |
Promotions are sometimes offered, such as discounts on phone hardware, so contact us for a written quote!